Short summary of the CEN meeting, Burnt Out Punks shows and workshops Norway14th – 16th of June 2012.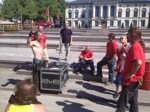 On the 10th to 13th of June the Burnt Out Punks visited Porsgrunn International Theatre Festival in Norway. As part of the TOQQORTAT project the group Burnt Out Punks held workshops in pyrotechnics and rigging adjacent to their performance of The Stockholm Syndrome. As well as meeting with the administrative staff (Dag Haddal adn Grete Knudsen) of Grenland Friteater.

The workshop and show schedules were as follows:
Monday 10/6
Building/rigg & workshop
10:00 – 13:00 – Workshop/ Build
14:00 – 18:00 –Rigg/workshop

Wednesday 12/6
10:00 – 13:00 - Rigg/workshop
13:00 – 14:00 – Lunch
14:00 – 18:00 Pyro workshop
22:00 – 23:00 Showtime!

Thursday 13/6
09:00 – 13:00 –Down rigg/ workshop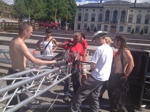 WORKSHOPS
In total there were 6 rigging workshop and 8 pyro workshop (all women!) participants.

In the rigging workshop they helped, learned and carried scenography and rigging material all day long. As we worked our way through the set up of the show we now and then paused and slowed down and held short lectures and demonstrations about priciples of riggning. Ranging from basic facts to rules and regulations.

In the Pyrotechnical workshop we went through basic principles of fireworks and pyrotechnical devices. The participants learned different ways of connecting/wiring pyro and subsequently fired the articles. We also went through different firing devices. We then went on to try and learn about different flamethrowers. Much to the participants amusement! Some of the participants were also acting fireguards during the show later the same day.
SHOW
On the night of the 12th Burnt Out Punks performed the their show the Stockholm Syndrome. Never in the history of the Punks has it rained as much as it did that day...but the show must go on. More than 500 people had gathered despite the rain and a very special show indeed was performed. No injuries, a happy audience and everybody soaked by the rain!