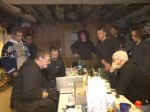 Short summary of discussions about Circus Effects Network 18-21 nov
Between Thursday the 18th - 21st of november the first CEN Nordic network meeting was held in the Punkshangar in Alby, Sweden. During the 4 days there was a pyrothechnics workshop, a visit to Swedens most experienced rigger Poly Nylén, several discissions and some social activities as well as a visit to a possible Site Specific production location.
Review of the workshops around pyrotecnics and rigging:
Discussions of possibilities about artistic/educational cooperation in the near future. Ofcourse the goal is that it will be an enrichment for all participating companys/organisations We are all very busy and the time we will put on networking in different ways has to be an enrichment and the network has to have distinct purpose/goals.
What are the different needs and what are the common interests to build from?
What is our goal with the network with focus on circus effects? How can we use the visits between the groups in a constructive way?
We discussed about an open "bank" of ideas and knowledge on internet. A place where we can support each other in solving problems and share new creative ideas. We also discussed the possibilities for the "circusworld" to influence future regulations regarding rigging and pyro techniques. We decided to explore the possibility to take that matter into the existing artistic network in Europe.
We discussed the possibility of a common production with it´s core in rigging, pyrotechniques and streetart in which effects and rigging have as much focus as the acts. A sidestep in the discussion was about how we distinguish the mission of the network in relation to stagedesign/ stegetechniques and other specialities.
We decided as follows:
1. Process and coordination
Circus Arts will be coordinating and collecting ideas and proposals from the participations about visits to each other during the spring and ideas on common artistic works/productions. In the process everyone will be active from idea to realization to evaluation. We need a concrete and clear goal. A goal in which all the different organisatons experience and knowledge and visions about this network is taking into account. That we use the meetings constructively.
We have to further develop the structure of the network.
2. Common production
We will examine the possibillities to create a nordic site specific based on pyro and rigging. All participants will bring the ideas to their respective organisations and respond to Circus Arts who are the coordinators.
One idea would be to make a fire and ice show in Greenland . Young people in Greenland seem to be generally more oriented towards the film industry . When the Silamiut theatre is now about to start a theatre school it could be an inspiring a way of establishing "our" elements on an early stage.. CircusArts has been experimenting with combining the elements of fire and ice in co-operation with the Ice Hotel in Jukkasjärvi and the Fire and Ice celebration in Skansen Stockholm. Perhaps we could continue this development within the network.
Another idea is to create a site specific in Botkyrka Sweden in 2012-13 .
In any case we would strongly benefit from each others experiences and knowledge.
3.Grants
We decided to wait with applications for grants from the EU . We want to establish the Nordic network before we possibly invite other European countries We decided to try to get a 3 year support for the nordic network from Kultur Kontakt Nord.
4. Homepage
Wille from CircusArts has started creating a homepage and the participants will contribute with pictures and texts . The final version will be wiewed and agreed upon by all parties before publishing.