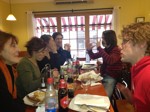 Visit to Attempo Circ in Barcelona/Spain
Between Friday the 23rd – 24th of February a CEN Nordic network visited our new member Attempo Circ in Barcelona in Spain/Catalunia We had several meetings about our history , our situation now and our goal the production Toqqartat .We had a short workshop in rigging was held. , a visit to the training/creation grounds of Atempo Circ, the training facilities at Central de Circ, and a visit to the circus artist Karl Stets. as well as social activities including circus performance and night out the two major circus training spaces in Bartcelona (La Central de Circ and Escola de Circ Rogelio Rivel) as well as a visit to the circus company Circ Cric and the famous circus village of Montseny and the homes of the circus company Compania de Circo Eia.
Why we decided to go in februari was because it was a fantastic opportunity to meet all street and circusartists in the area . This because they had a very special Cabarét in Le Central de Circ to support the house so everyone was there.
Participants on this meeting was:, Marilen Ribot - Atempo Circ, Spain ,Matìas Marré - Atempo Circ, Spain , Olav Hanto – Grenlands Friteater ,Norway , Petri Heiikilä – Salpaus , Finland , Wille Christiani – Sweden , Stina Holmberg – Sweden