As a part of the project Circus Effects Network, Oskar Hjell and Wille Christani will be leading a workshop in the use of fire and mask as dramatical tools and visual effects. This will take place in Nuuk, Greeland in September 2011.
Oskar and Wille will work with Silamiut Theater, The Greenland National Theatre. The workshop will take place in Nuuk between the 14th and 17th of September.
Wille is one of the leading forces behind the Burnt Out Punks and Circus Arts. With a great many years of experience of working with fire and rigging.
Oskar Hjell is one of Swedens foremost mask and prop makers. With more than 20 years of experience he has a great amount of knowledge to share.
Please visit Oskars website for more information about his work:
CEN trip to Greeland and the Siliamut Theatre.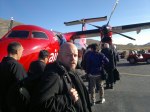 Between the 13th -19th of September 2011 Wille Christiani from Circus Arts/Burnt Out Punks and Oskar Hjell from Kompani Bastard went to Nuuk in Greenland and the Siliamut Theatre. The mission was to hold workshops in the art of fire and mask as dramatic tools and visiual effects. The mask workshop was decided to be held since the next show of Siliamut theatre was to be with masks. The idea was also to introduce the Greenland CEN partner into the project and understand their needs and wishes. And also to introduce the idea of a possible future show in Greenland.
Workshops in fire and mask in Greenland
The fire workshop was held by Wille Christiani and the mask workshop was held by Oskar Hjell. In the mornings we worked with mask and in the afternoons we worked with fire.
The fire workshop
In the fire workshop we went through personal and location specific safety, and the safe handling of fire equipment. Egnition and estiguishing of fire. We worked with many different fire tools. Some that we build ourselves and some ready made. The participants learned basic fakirism, small fire tricks, swalloing and breathing fire, som basic (and advanced!) firestaff, rope and poi spinning. 6 people took part in this workshop and 3 of them participated in the final show.
Mask workshop
The mask workshop was an introduction to playing half and full mask according to a system inspired by Suzanne Osten and My Walthers mask playing method. The participants researched the mask as a tool for storytelling in a performance situation. The work was based on improvisation rather than the thought. 8 local artists took part in this workshop and 3 of them participated in the final show.
Historical Performance
On the third day of the workshops we rehearsed together a show to be performed the next day as a way to introduce the actual performance into the work. The two workshops where joined with focus on performance with mask and fire. The workshops leaders also joined this show. On the 17th of September at 20.00 the first ever streetshow was performed in Central Nuuk! About some 150 people showed up to witness this historical show. The 20 min performance was a mix of all kinds of fire, masks and audience interaction. The show was very well recieved and rumours are that the needs for longer and bigger workshops in the future will be big... Plenty of fire material was donated to Siliamut Theatre so the art of fire performance can continue and spread in Greenland.
Meetings and networking
We also had several informal meetings with the Siliamut Theatre about the work of CEN and how future collaborations and cultural exchanges could be organized. The idea of making a show in Greenland some time in the future was also discussed.
A great many connections were made with many local artists ranging from filmmakers, actors to scenographers and sculpturers. Artists that could, in different ways, be part of future cultural exchanges.
The Siliamut Theatre will become the new National Theatre of Greenland. And they are very interested in future collaborations with other members of the CEN and future shows.
Members of the Siliamut Theatre will start the first ever University level actors school in Greeland. They are very interested in connections with other active artists/teachers in the performance world (circus, mask, physical theatre, clown etc). Talks about bringing Oscar Hjell over for alonger period to work with masks and making of masks was discussed. Nalle Laanela from Burnt Out Punks/Circus Arts is already booked for a teaching period next year.
Summary
All in all the trip was a great sucess. Many new connections were made. Great workshops held. A historical show was performed. The artform of working with fire was introduced to Greenland. A good foundation for future collaboration was laid. And most of all Siliamut Theatre is now really a member of CEN.