Circus Arts and Burnt Out Punks have with the support from KK Nord and Nordisk Kulturfond initiated the building of a network of circus organisations in the Nordic countries, working with similar stage expressions as themselves. The aim is to develop the different organisation´s distinctive styles by common workshops and seminars, with the focus on rigging and pyrotechnics. And to raise the levels of these artforms. The goal was to create a site specific production named "Camouflage" in one or more of the participant countries.

And the dream came to reality after years of networking and hard work and resulted in the biggest site specific show ever in Greenland . 30th and 31th of august 2014 "Toqqortat" (hidden – camouflage ) where shown in Colonial Harbour in Nuuk to half the population and became a big success .
A show where inuit storytelling and masktradition met innovative rigging and pyrotechnics, fire , clown and circus involving more than 50 people on stage.
Read and see more about toqqortat under TOQQORTAT creation and performance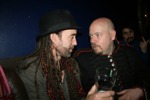 Now in april 2015 we have had our final meeting for the CEN network with the premiere of our documentary " From dreams to politics" in stockholm where everything started. Bio Barbro was filled up with a speechless audience and we networkers had some fantastic days together
Read about it under MEETINGS – Final Meeting

Circus Effects Network became something much more than what we expected when we started in 2010. Trust and livelong friendships have been built up during the years and now there are new ideas and dreams on it's way.

See you soon again!!!